If you are having issues with the activation of your account, have general support questions, or running into an issue with the product... OneMob is here to help! There are three ways to help you on your search for a solution - 1) Visit support.onemob.com 2) Email support@onemob.com, 3) In-App Chat.
The OneMob team wants to have your experience using OneMob to be seamless and with as minimal issues as possible. We have a dedicated support page where you can see a multitude of articles that have been created detailing many product capabilities, installation procedures, updates, general questions and more. Many of these articles include videos showing a step-by-step process with tips and tricks on how to succeed using OneMob!
To access these articles click here and begin searching for your issue in the search bar or by clicking the buttons with general subjects.
We also have a blog where we feature monthly updates in OneMob! These blogs will help you stay up to date with the product and use OneMob to its fullest! Click here to be directed to the blog.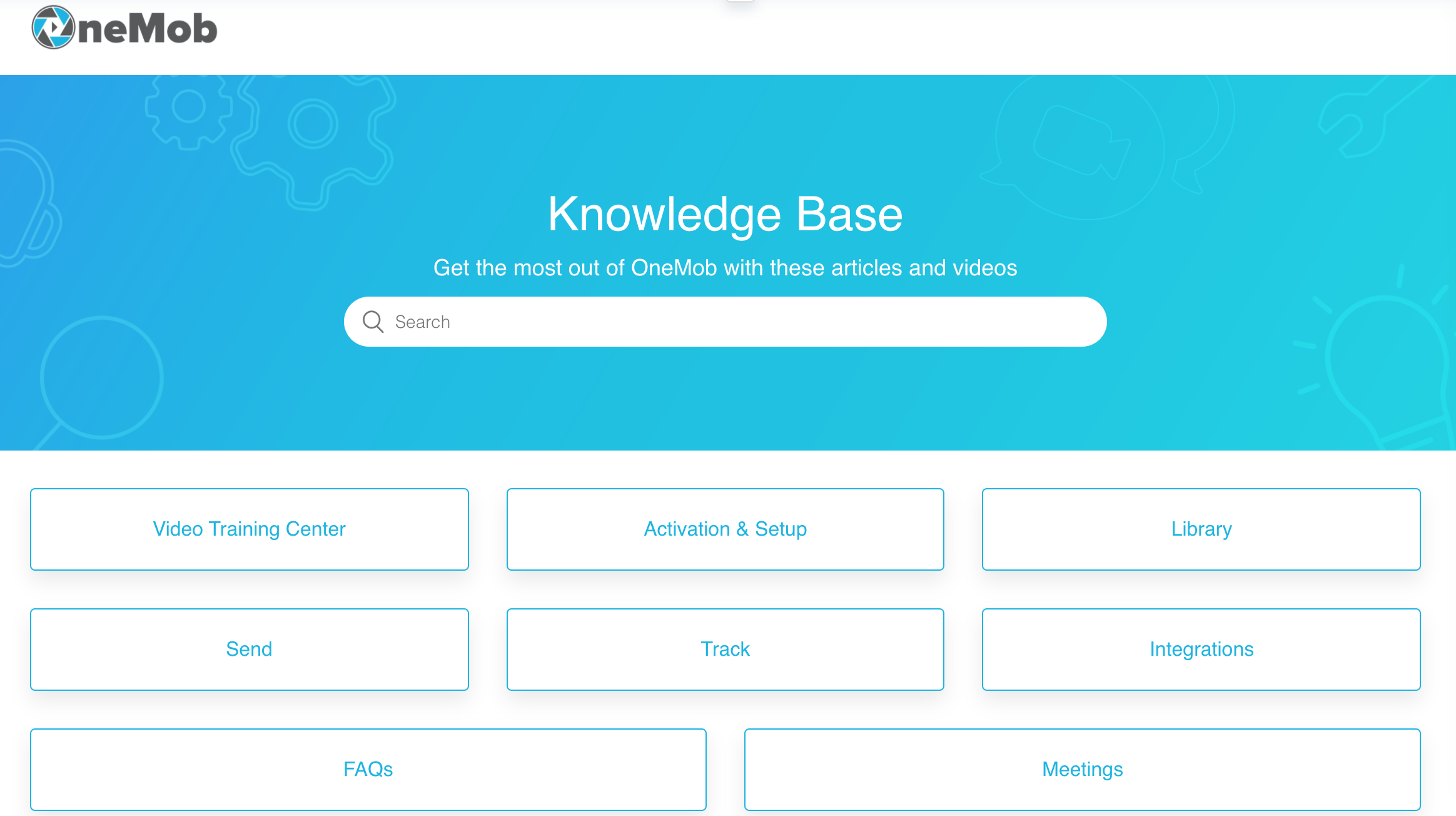 If you prefer to have email interaction you can reach a OneMob support team representative through the following email: support@onemob.com. A representative should get back to you quickly to help with your issue.
In-App Chat
The live chat feature allows for you to speak directly to a OneMob support representative in real-time. Within the live chat you are able to articulate your issue to the representative in as much detail as you would like. Live chat is at your disposal in the OneMob platform and at onemob.com on the bottom left hand portion of the screen.
Click on the chat icon

A chat box will appear where you can begin to type the subject of your issue

We populate a list of support articles that could have the answer you need. Click on an article if it has a subject line that resembles the issue you are having. If your issue cannot be resolved through those articles, click the Live Chat button.

Begin to type your message and click enter on your keyboard to send the message. If you are waiting for more than a few minutes please leave your email address and the support team will reach out to you directly. On the bottom left corner you have the option to turn sound "On" or "Off" to make sure you don't miss a response from a support team representative.


Pro tip

: You can attach images to showcase your issue by clicking the paperclip icon on the bottom right hand corner. This really helps for the representative to get a better idea of the issue you are having!
Before you end the chat, if you would like to email the text transcript of the conversation to yourself you can do so by clicking Email Transcript.
Once your issue has been resolved click End chat.