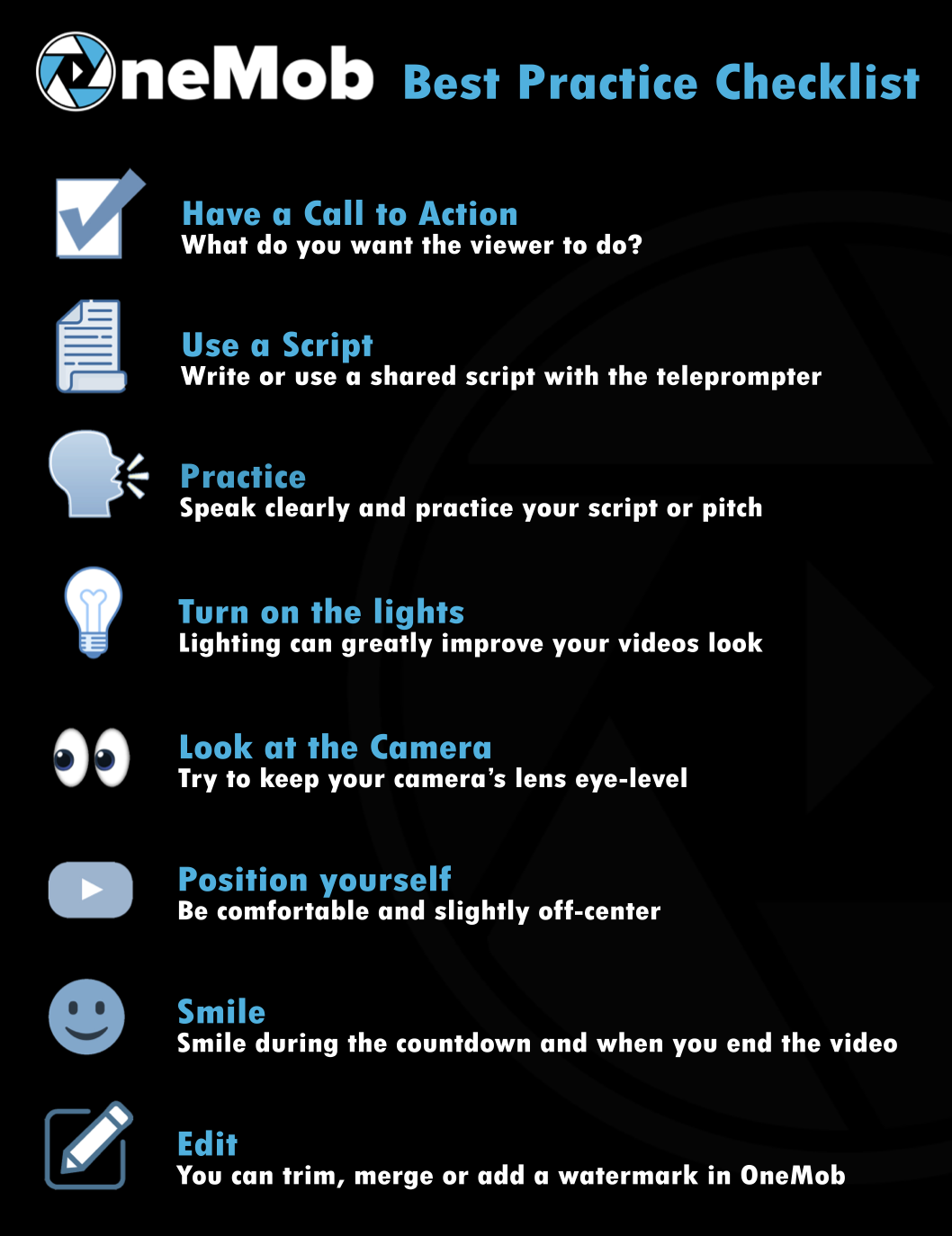 Set up your recording space
Get the best recording possible by using our mobile app or webcam recorder.
When using the mobile app, set your phone against your laptop screen facing you for a steady video-- holding your phone will lead to a shaky recording.
Keep the camera at your eye level.
Keep a comfortable distance from the camera.
Use your background to your advantage.

Control your environment; minimize background noise by silencing your phone and computer, and closing any doors or windows.

Keep any sources of light in front of you, not behind you.
Presentation
Practice. If you can't memorize your lines, try using a script on the iPhone.
Speak clearly, be audible, and keep posture and composure.

Don't bounce your knees, rock back and forth, and try to minimize using filler words (like or um).

(Mobile) Give your video a natural pause by waiting in place for a couple of seconds at the end of your video. Then, use the trim option to round out your ending. Don't be in a rush to hit the stop button! That can cause your body to start moving before you've finished your last sentence.
Keep in mind...
You can always re-record, so no pressure!
Remember to smile!
What you say in your video will likely mirror the email you were going to write for the most part. With a few recommended additions your message is sure to generate a response!

Reply Button:
Every OneMob video has a Reply button built into the page to help you generate that feedback you're working for. Your viewer can even reply with a video! Mention the Reply button in your video and make it your call to action for the viewer.
Example:

"Click the Reply button on this page to ask me any questions or schedule a time for your personal demo"
Video Length:
Your video duration will vary depending on the reason for your outreach. For prospecting new leads, we recommend keeping the video between 30sec-1min. Once you've engaged the client, it's ok for videos to go a bit longer, around 1 minute, and include more details.
Want to take it to the next level?
If you're looking to make your video more professional, try using a tripod and a tripod phone holder. If you are indoors with poor lighting, a lighting kit might be your solution. And to top it off, here is a professional grade microphone for smartphones and tablets.

In contrast, if your videos require active movements, you may be interested in a handheld stabilizer for your phone.