Note: For a quick video into how set access for content, click here for a short video that describes setting access for content in OneMob.
If you have content that you want to share with your teammates, then here is how to do that.
Select the content item or multiple items in your Library Content, Microsite Templates or Scripts
Click on the set access icon.
Type the name of the team or the email for the person (must be within your organization on OneMob) you want to share with in the box that reads 'Add users or teams'.
If you have created teams in OneMob you can type the name in that box instead.
Then click
You can see who already has access to the content, by clicking the arrow next to Details
You can type in the users that no longer need access and then click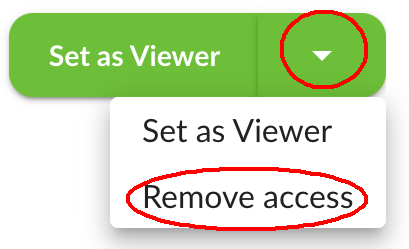 or you could toggle to the Whole Organization.
Click
The users that you shared with will not see your content in My Library, they will need to click Shared to see the items that you shared.

After opening a microsite template or script, the new user must clone the original content to be able to make edits. Then the user will be able to only edit the clone.

To Clone, click at the far right of the content and then click
To make a colleague able to edit your template
If you are sharing with a teammate that needs to be able to edit your microsite template, then after typing the email in the box, then you can click , then click the green button. Then the teammate will be able to original microsite template.